Widespread smoke will remain in place today as a northwesterly flow gradually lightens and leaves the smoke to languish across Southern Manitoba. A low pressure system tracking into the northern Prairies tonight will bring a southerly flow at all levels to Southern Manitoba which will help clear skies out as well as lead towards an unsettled end to the weekend.
Friday
Partly cloudy, but widespread smoke
Saturday
Partly cloudy with gusty southerly winds
Sunday
Showers or thunderstorms
Today will bring partly cloudy skies which will seem a whole lot cloudier thanks to the widespread smoke that remains entrenched over Southern Manitoba today. That smoke will keep our temperatures slightly cooler than they would be under clear skies, leaving us with a high temperature later today of 26°C. Winds will remain fairly light through the day. The humidity will be more comfortable than yesterday's dew points of 20°C; dew point values are expected to sit in the low- to mid-teens this afternoon.
Winds will begin picking up out of the south overnight which should help begin clearing the smoke out of our area. Our temperature will dip down to around 17°C.
Saturday will bring the humidity back to Southern Manitoba alongside gusty southerly winds to 30–40km/h. It will be quite a warm day with temperatures soaring into the upper–20's or even hitting the 30°C mark while dew point values climb back towards the 20°C mark as the southerlies bring in more humid air from the Northern Plains.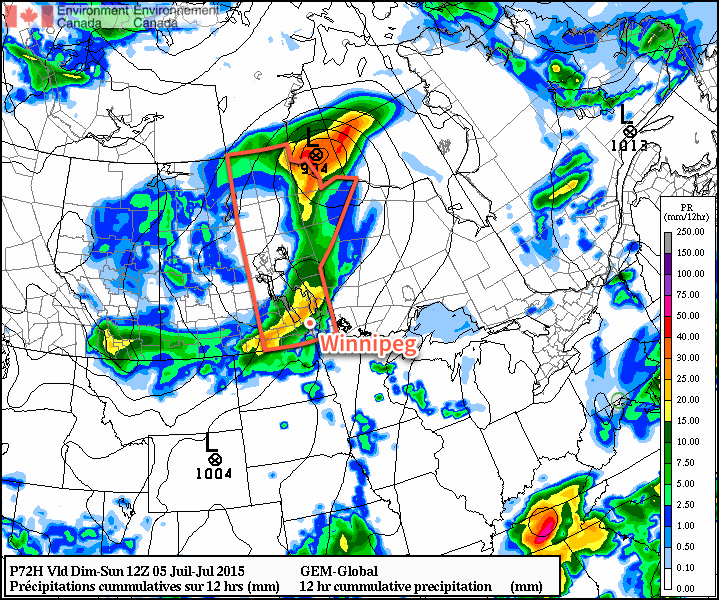 Saturday night will see thunderstorms initiate over Western Manitoba then slowly push southeastwards. There will likely be a chance for some severe thunderstorm activity over Parkland Manitoba; we'll take a closer look and issue a convective outlook if warranted tomorrow. These showers and thunderstorms will slowly stall out towards the Red River Valley near morning and then sit over the region for much of Sunday. Temperatures will climb to a very humid 23°C or so on Sunday before the cold front finishes pushing through.
Behind the cold front, cooler and less humid air will begin working back into Manitoba. Sunday night will see the coolest overnight low in a while as it dips towards the low teens. With that cooler, drier air will come a northwesterly flow which will likely mean a return to smokier conditions.