Heat & humidity will begin moving into the region today as a breezy southerly wind develops over the province, tapping into a much warmer air mass over the Northern Plains of the United States.
Friday
Mixed skies with chances of showers or thunderstorms in the evening & overnight
Saturday
Cloudy with a chance of thunderstorms or showers; clearing late in the day
Sunday
Cloudy with showers
A potent low pressure complex developing over the western Prairies & Northern Plains will bring a thunderstorm threat back to Southern Manitoba today with the southwestern corner of the province under the threat for thunderstorms—potentially severe—this afternoon and this evening, while the Red River Valley and southeastern Manitoba seeing the threat move in this evening and into Saturday morning.
Before that, though, Winnipeg & the Red River Valley will have a fairly nice day ahead. Temperatures will soar through the morning, reaching within a degree or two of today's high temperature of 28°C by lunch. Skies will be mixed today with cloudier conditions developing in the afternoon. Southerly winds to 30-40km/h will pick up through the day across much of Southern Manitoba, drawing moisture from the United States northwards into the province. By late afternoon, dew point values in the Red River Valley will climb to the 16-18°C range1 while in the southwest corner of the province, dew point values may reach the 20°C mark, making for very humid feeling conditions.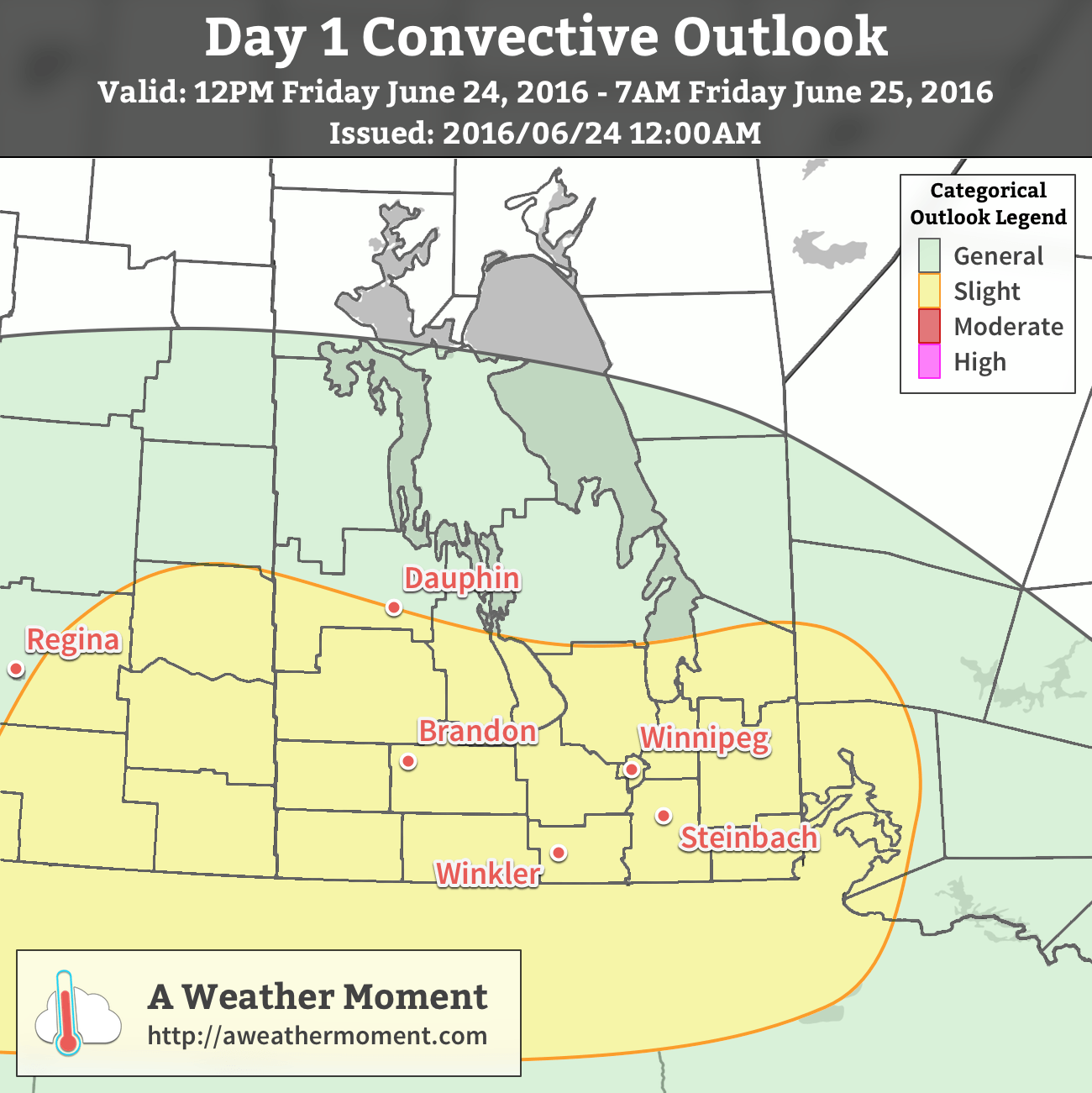 As the afternoon wears on, a leading shortwave lifting out of Montana will destabilize conditions over southern Saskatchewan and southwestern Manitoba, bringing a threat of thunderstorms to the region. There's a slight chance that some of these thunderstorms may become severe. The threats from these storms will be:
Rainfall: Precipitable water values of 35-45 mm combined with storm motions of 20-30km/h will produce very intense rainfall, but the storms will be moving quickly enough that the overall rainfall accumulations will be limited.
Hail: With MLCAPE values in the 1500-2500 J/kg range and ample shear present, storms will likely take the form of discrete supercells early in their life cycle. These storms will be capable of producing large, damaging hail.
Wind: Overall, wind won't be a widespread threat with these storms, but isolated damaging wind gusts are possible.
Tornadoes: The supercell thunderstorms in southeastern Saskatchewan and southwestern Manitoba will be in environments with very strong directional shear. A small chance of a tornado or two exists with these storms.
As we move into the evening, scattered showers or thunderstorms are possible over the Red River Valley while the thunderstorms closer to the SK/MB border continue onwards and grow into a larger complex of thunderstorms that will push eastwards overnight. Instability actually increases overnight as moisture continues to be pumped northwards along the low-level jet ahead of the incoming shortwave. As a result, a large area of rain and thunderstorms will likely progress eastwards overnight, reaching the Red River Valley between 3 and 6AM. These thunderstorms will present a slight risk of severe weather with primary threats of rain and large hail, with a secondary threat of damaging wind gusts.
Worth noting: if the western shortwave offering support to this system ends up slowing down, the overnight thunderstorm activity may diminish over southwestern Manitoba.
Temperatures will remain very warm on Friday night with overnight lows near 20°C in the Red River Valley.
Saturday: Muggy with Continued Thunderstorm Threat
Saturday will start with whatever convection moving through on Friday night exiting the region, and we'll be left with very humid conditions with dew point values likely climbing to 20-21°C. Temperatures will climb towards the mid-20's through the morning under fairly cloudy skies, but conditions will undergo a fairly significant change midday as a cold front sweeps through. The passage of this front will bring another threat of showers and thunderstorms to the region and with MLCAPE values near 1500-2000 J/kg and ample shear, these will also have bring the threat of severe weather with rainfall, winds and hail a concern.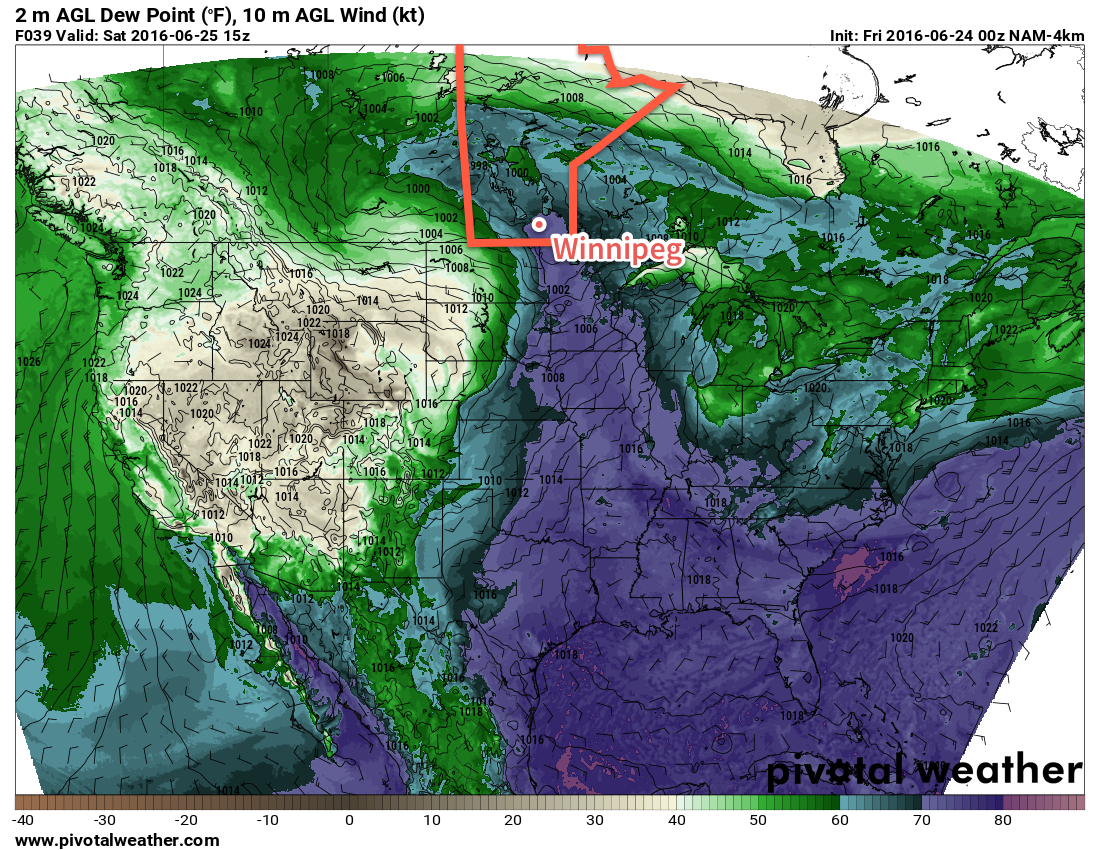 Once the front passes, gusty westerly winds will usher in drier air as dew point values plummet into the single digits, bringing relief from the humidity. Skies will begin clearing as well, likely providing some afternoon/evening sunshine. Temperatures will likely top out at only 24 or 25°C, though, and a cooler night will be ahead with lows near 15°C.
Dreary End to the Weekend
Saturday night's clear skies will be replaced by cloud on Sunday as the main upper-level low of this whole weather system moves through the region. It will bring showers to much of Southern Manitoba with most of the activity through the morning hours and then tapering off through the afternoon. Temperatures will be much cooler with a high near 17 or 18°C and strong northwesterly winds of 40 gusting 60 km/h picking up by the end of the morning.
The winds will taper off overnight as the valley heads to a low near 11°C.
Winnipeg's seasonal daytime high is currently 24°C while the seasonal overnight low is 12°C.
At a dew point of 16-18°C, it begins to feel mildly muggy. ↩