The weather will be nothing if not reliable over the coming days as the uneventful weather continues bringing seasonal temperatures to Southern Manitoba.
The coming 3 days will bring sunny skies to Southern Manitoba with seasonal temperatures and relatively light winds. Today and Saturday will both see high temperatures near 15°C with overnight lows in the 1-2°C range. Slightly warmer weather will move in on Sunday with temperatures climbing into the upper teens with daytime highs near 18°C. Winds will be out of the north to north-east today and Saturday, at 20-30km/h. With the warmer weather on Sunday, winds should be calm out of the northwest-to-west.
Staying Dry
While the mild, dry weather is pleasant for many people, with spring moving into full swing, the desire for a little rain will be increasing, especially from the agricultural community. Unfortunately for us, the odds of any significant precipitation over the coming week is slim.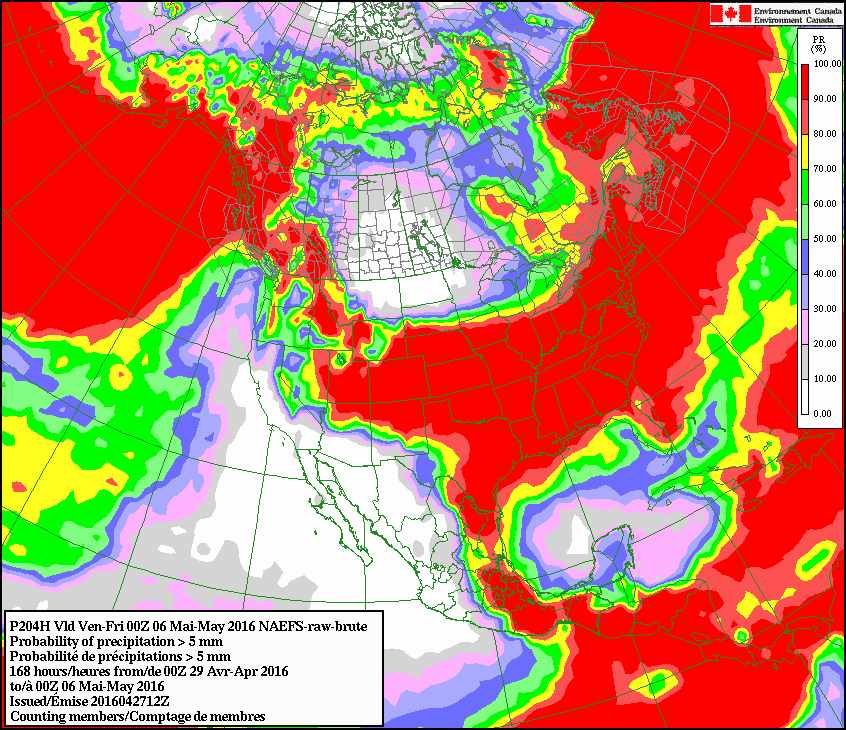 Looking ahead over the next week, the NAEFS is painting a dry picture. Above shows a probability of locations seeing a total of 5mm of rain or more through April 29 to May 5th. While it's a foregone conclusion over the western and eastern Coasts, here in the middle it's showing essentially a 0% chance of it. 2mm is also similarly bleak, with only a 30-50% chance.
This means that the odds of anything that might actually soak the ground at all is nil. Moving past next week into the 2-4 week period, it looks like we'll head back towards a "seasonal" chance for precipitation, but no major soakers are on the horizon. Alongside the dry weather, however, will likely be some warmer weather as upper-level ridging gradually builds in over the region.
Winnipeg's seasonal daytime high is currently 15°C while the seasonal overnight low is 2°C.