The coming days will see a fair amount of cloud and several chances for snow, but temperatures will continue to be slightly above seasonal values. A big change is on tap for next week when a massive blast of Arctic air will plow through much of Canada and the United States, sending temperatures plummeting off a cliff. Time to dig out all the winter clothes.
More of the same. This weekend's weather will bring little difference from the past several days as low cloud continues to linger through the region. The high temperature today will sit near -2°C with a light winds. Winnipeg & the Red River Valley may see some light isolated snow showers, but no accumulations are expected and for the most part it should just be a mainly cloudy day.
Temperatures will drop to a low near -5°C tonight with a few breaks in the cloud showing up overnight. Winds will pick up out of the south to about 15 km/h by Saturday morning.
Saturday may bring some sunshine through the morning hours, but skies will cloud back up through the afternoon ahead of the next low pressure system moving through. Temperatures should climb to a high near 0°C with continued south winds at 15-20 km/h. Heading into the evening, an area of light snow will spread eastwards into the province as a low pressure system moves into the Interlake from southeastern Saskatchewan. Temperatures will dip to a low near -2°C.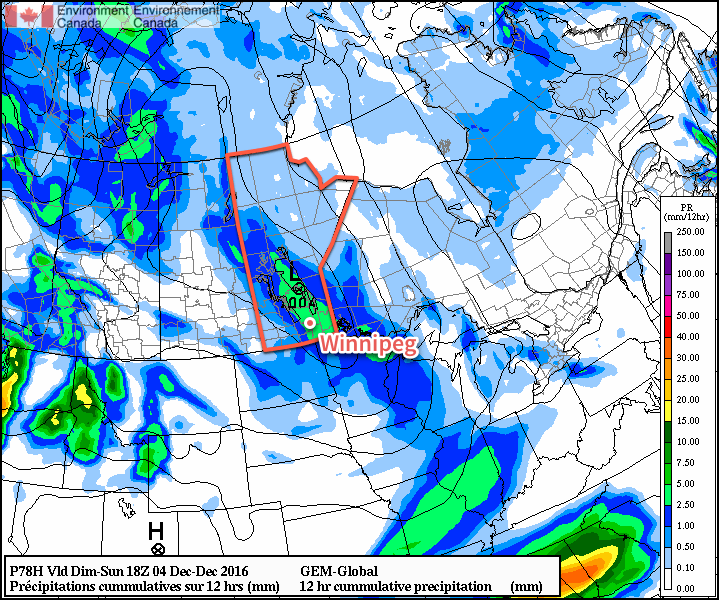 Sunday morning will see the snow gradually tapering off with total amounts close to 2 cm. After that Winnipeg will be left with mostly cloudy skies and the continued chance for some isolated light snow showers. Temperatures will remain steady near -2°C before falling to a low near -6°C on Sunday night under partly cloudy skies.
Long Range
Monday will bring the potential for another snow storm to the region as a low lifts northwards through eastern North Dakota into northern Minnesota. Best guesses at this point are for another 5-10 cm of snow over the Red River Valley and 10-20 cm over southeastern Manitoba. Slight changes in track could result in significant changes to forecast snowfall amounts, though, so we'll have to keep an eye on it as this system develops through the weekend.
Behind that system, the big story will be the temperature crash over North America: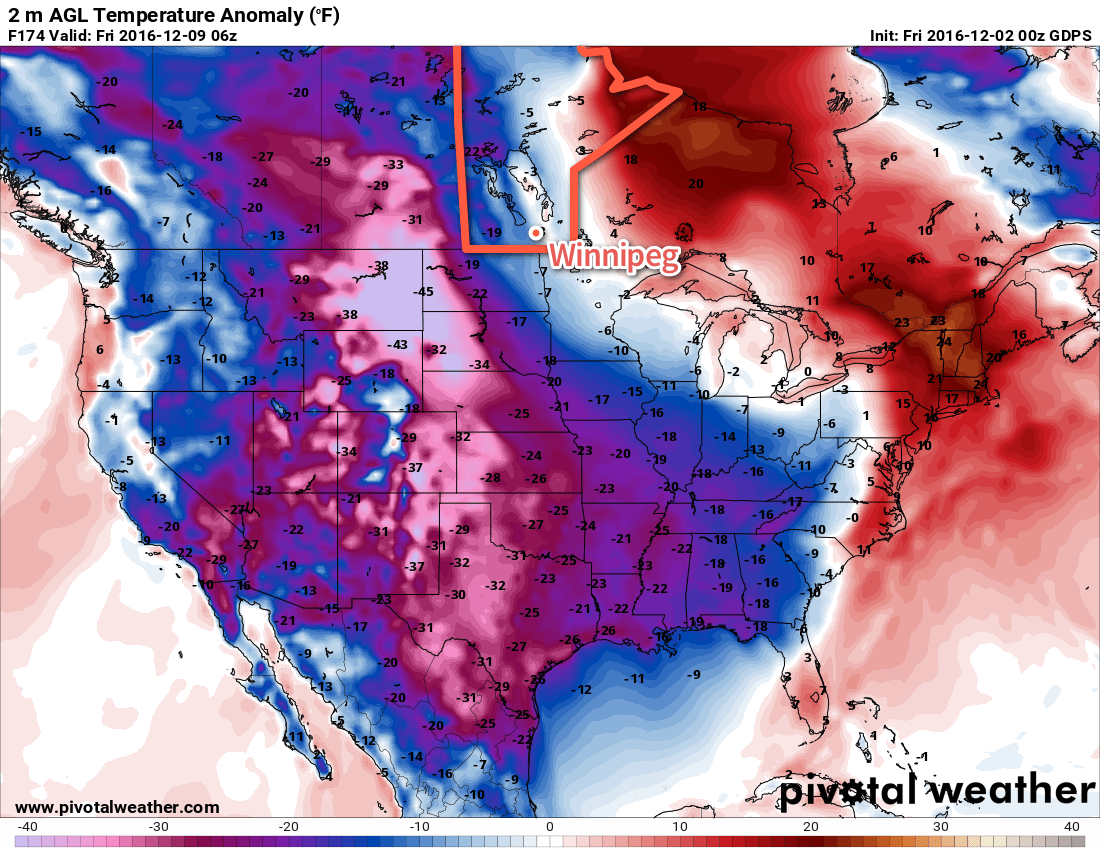 Temperatures over a large area are forecast to be 10-20°C below normal as a cold air mass crosses over the pole from Siberia into North America. Here in Manitoba, it appears like we'll avoid the worst of it with temperatures dipping to seasonal to slightly below seasonal values, but to the west and south winter will be arriving in full force. After a November that saw every single day with above normal temperatures, it will likely be quite a shock to the system!
Winnipeg's seasonal daytime high is currently -7°C while the seasonal overnight low is -16°C.