The first weekend in October is looking like a great one; plenty of sunshine will be seen over the coming few days alongside temperatures 2–3°C above normal for this time of year.
Sunday
Mainly cloudy; chance of late-day showers
Today and tomorrow's weather pattern will be dominated by a large ridge of high pressure anchored from northwestern Ontario into northern Quebec, whose presence will be one of the guiding impacts on the track of Hurricane Joquain. Here in Manitoba, dry outflow from the ridge will ensure skies stay clear and a polar jet stream mainly locked in the Arctic will keep the cooler weather well to our north and allow for slightly above-seasonal daytime highs[1] through the weekend.
Here in Winnipeg, we can expect mainly sunny conditions today and tomorrow with daytime highs around 16–17°C. Winds will be out of the south or southeast at 20–30km/h both days, although today will likely be a bit windier than Saturday. Overnight lows both tonight & Saturday night will sit around +3°C.
Sunday will see the pattern begin to break down a bit. The quasi-stationary ridge to our east will begin to shift off towards the east, easing the pressure gradient over the Red River Valley and finally giving us a break from the windy conditions that will have been in place for several days by that point. As things shift to east, however, cloud will begin to spill eastwards into the valley from a low pressure system that has been stalled over the western high plains for several days. This means that Winnipeg will likely see a fairly cloudy day, but daytime highs should be relatively unaffected and remain a couple degrees above normal near 15–16°C.
As we head into Sunday night, the chance for some light shower activity will increase. Very little is expected by way of significant precipitation, although at this point it appears that the slightly unsettled conditions will likely persist through Monday & Tuesday next week.
Above-Normal Temperatures To Persist
Looking ahead into the long range, it appears that the above-normal temperatures are likely to stick around.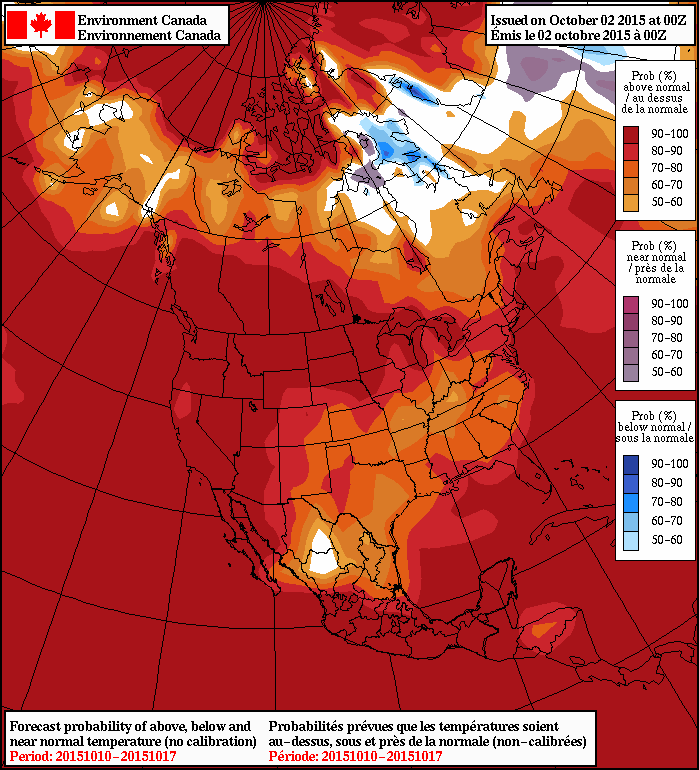 As the NAEFS 8–14 day outlook here shows, there's a high probability of above normal temperatures throughout most of Manitoba for the period of October 10–17th, as well as for almost the entirety of the remainder of North America. The NAEFS ensemble has been persistent with this trend for quite a while now, and is what we expect to see in strong El Niño years as it often shunts the polar jet stream to the north and east, allowing warmer air to spill eastwards through the southern Prairies in a more zonal upper-level flow.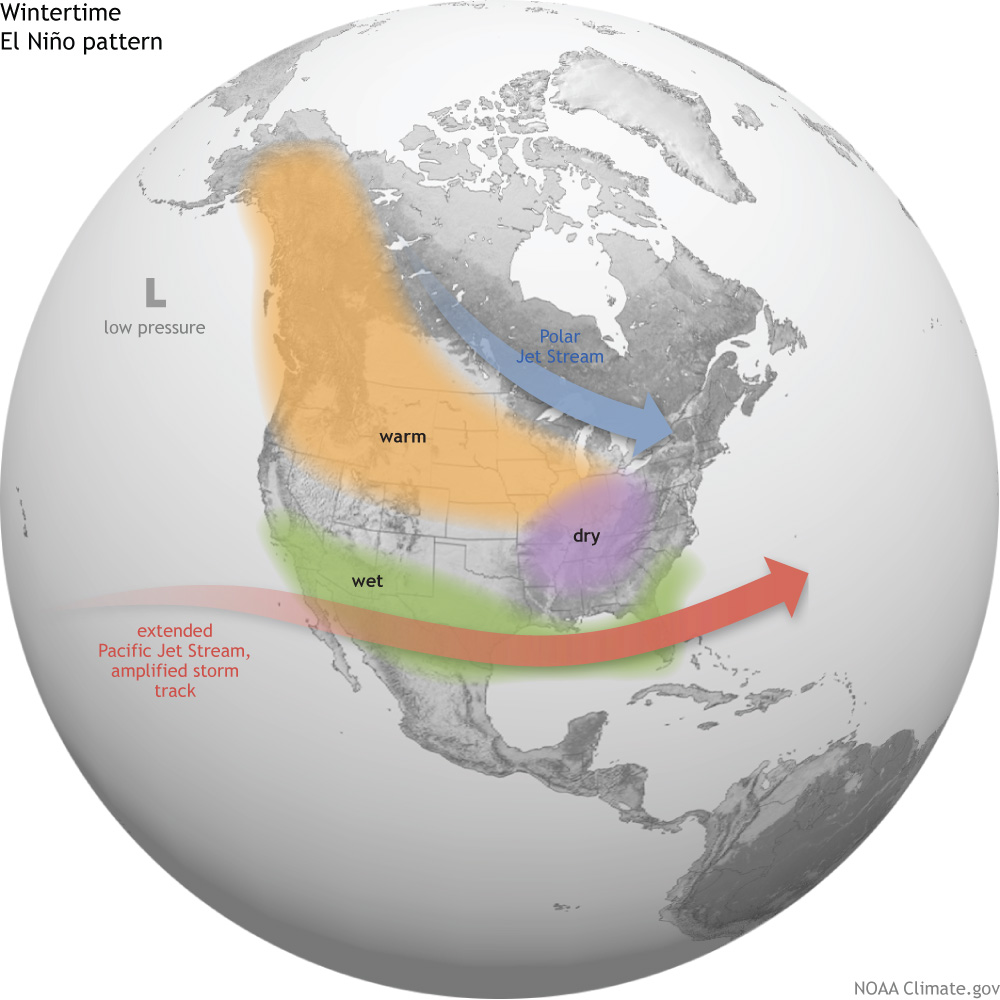 In El Niño years, persistent low pressure off the west coast of North America tend to produce ridging over the Rockies, drawing warmer air further to the northeast. This ridging shunts the polar jet stream further to the northeast and typically keeps the Arctic blast freezer bottled up a little more.
How strong is this El Nino now? The only real way to answer this is to throw a bunch of numbers at you. Essentially, it's "pretty strong."
This year's El Niño is on track to be one of the strongest on record, which would have a high correlation of generally persistent above-normal temperatures. This doesn't mean that cold weather isn't possible this winter; rather it just means that any cold outbreaks will likely be shorter-lived than typical. One of the potential down-sides to this year's event is that strong El Niño events tend to correlate with cloudier winters in the Red River Valley.
Again, all this is very generalized climate speak; the day-to-day weather can certainly vary significantly and the end result won't just be a result of the El Niño, but also its interactions with the AO, NAO, and a few other large-scale patterns.
At the most simple level, though, it's looking like above-normal temperatures will continue for a while yet. Perhaps the most disappointing thing at this point will be watching that "seasonal high" curve get lower and lower.
Enjoy the pleasant fall weekend!
---
Seasonal daytime highs for this time of year in Winnipeg are around 14°C.  ↩