The passage of a low pressure system to the east of Winnipeg this morning will usher in cooler air as an Arctic ridge of high pressure builds in across the Prairies. As the ridge builds over Manitoba, temperatures daytime highs will end up falling quite a bit below the seasonal value of –5°C for this time of year, possibly not even breaking the minus double-digits on Thursday. The colder weather will be short-lived, however, as a potentially breezy Saturday holds promise of returning above-seasonal temperatures to the region just in time for the 103rd annual Grey Cup on Sunday.
Wednesday
Mainly cloudy with a chance of flurries
Thursday
Partly cloudy and cool
Temperatures will be on a downward slide today as northerly winds to around 30km/h—with gusts up to the 50km/h mark—usher in cooler air and a large ridge of high pressure sourced from the Arctic. There will be some light snow or flurries around this morning, but they'll be light and should taper through the morning. By supper time, temperatures will have fallen to around –7°C with the northerly winds still blowing. Heading into the overnight period, the winds will start to taper off with the cloud cover breaking up a bit, but there will be plenty of cloud streaming southwards off Lake Manitoba & Winnipeg through the night.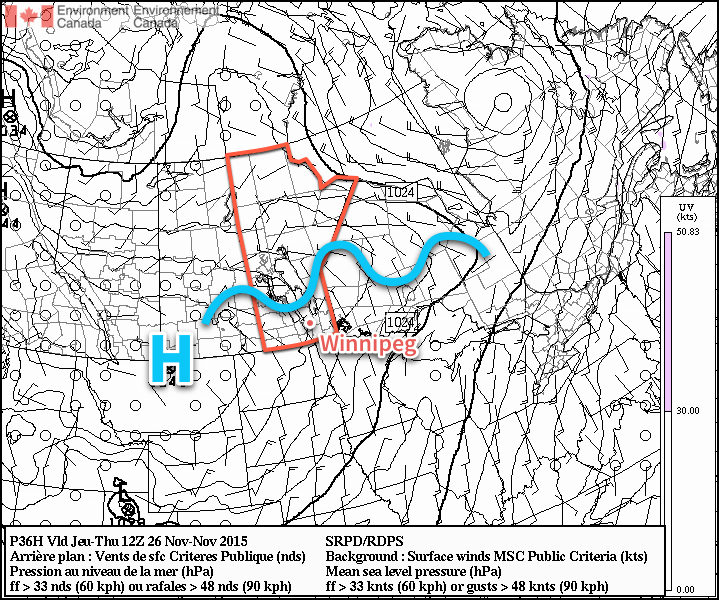 Thursday may end up being the coldest day so far this November with temperatures struggling against the Arctic air entrenched over the region. Temperatures will climb to around –10°C by the afternoon with winds out of the north to around 20km/h. Skies will be partly cloudy thanks to a continued stream of cloud cover coming off of the lakes, in particular Lake Winnipeg. If you find yourself underneath any of the lake cloud, you'll likely see some snow, however it looks fairly light and probably won't accumulate much. Temperatures will dip to only about –13°C on Thursday night as slightly warmer air begins moving in as the ridge slumps to our south.
Seasonal weather will return to Winnipeg on Friday with mainly sunny skies and a high near –6°C. Winds will be fairly light. Temperatures will fall to around –9 or –10°C on Friday night with winds picking up out of the south.
Looking Towards the Grey Cup
The story for this weekend will be warmer weather returning to Southern Manitoba. On Saturday, gusty westerly winds will bring daytime highs approaching –2 or –3°C.
Grey Cup Sunday is a bit of a trickier forecast at this point, but the best guess I have this far out is that temperatures will likely be seasonal with a high somewhere near –6°C or so and light winds. By the time the football game starts, temperatures will probably be somewhere near the –10°C mark, so bundle up!