We'll see some shower activity today as a frontal zone remains stalled through southern Manitoba. Conditions will improve rapidly by Tuesday however, as sunny skies return.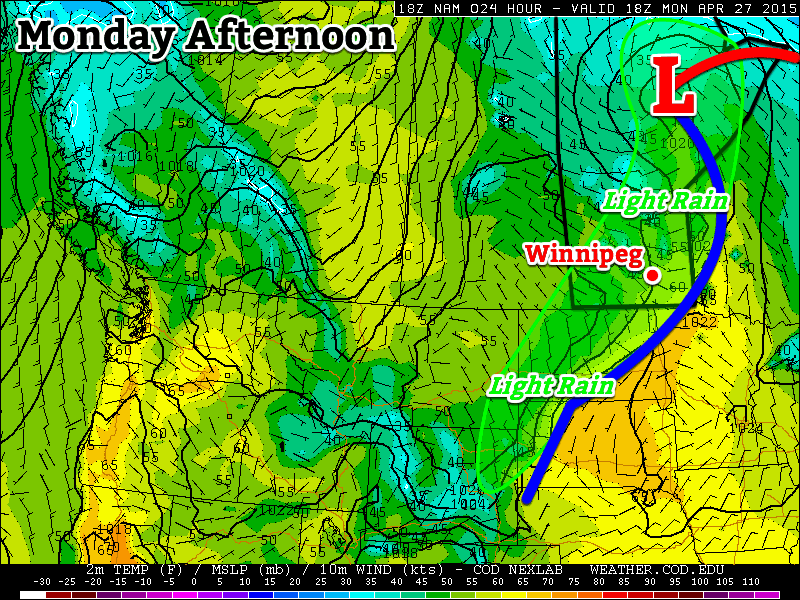 Monday
Mainly cloudy with showers
Monday
We will receive some light rain today as a frontal zone is draped through southern Manitoba. Rainfall accumulations will be small in general, not amounting to more than a few millimetres in most cases. Despite the rain, temperatures will climb into the low teens under mainly cloudy skies and light winds.
Tuesday
Tuesday looks to be a beautiful day as temperatures climb into the mid to upper teens under mainly sunny skies. Winds will remain as we sit under a surface high, making for very nice conditions!
Wednesday
Wednesday looks to be even nicer than Tuesday, as temperatures climb into the low twenties under mainly sunny skies. Winds will be a bit stronger than on Tuesday, but not by a lot. An approaching low pressure system will be responsible for pumping these increasingly warm temperatures into Manitoba.
Long Range
Weather models suggest we'll continue to see above-seasonal temperatures for the remainder of the week. Further out into the long-range the forecast is a bit uncertain, so I won't delve into that right now. Get out and enjoy what should be a great week (aside from Monday)!