In the wake of yesterday's cold front that brought some wild weather to Manitoba yesterday afternoon & evening, conditions will be significantly more benign as a ridge of high pressure moves into the Red River Valley and brings dry weather with seasonal temperatures.
There is not too much to say for today's forecast post. Mainly sunny skies will dominate the region today as a ridge of high pressure builds in from the northwest behind yesterday's cold from that moved across the region.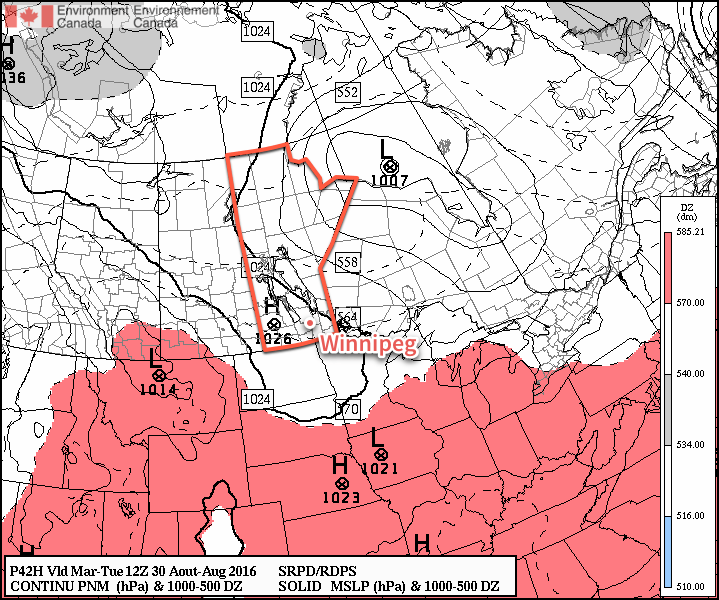 Winds will be breezy at 20-30 km/h first thing this morning, but will fairly quickly taper off into the 15-20 km/h range. Winds will remain light through Wednesday.
Temperatures will be fairly steady with daytime highs around 23-24°C all 3 days. Overnight lows will be cool, in the 9-11°C range on Monday night and Tuesday night, however slightly milder air begins working in on Wednesday night, bumping the overnight low up towards the mid-teens.
No precipitation is expected. Skies will be mainly sunny both today & Tuesday, however a little more cloud is expected on Wednesday, with sunny skies likely giving way to more mixed conditions in the afternoon.
Long Range
The second half of the week looks to bring warmer conditions back into the region with daytime highs climbing back towards the 27 or 28°C mark with variable cloudiness. Friday evening into Saturday looks to be the first chance of any more precipitation, with thunderstorms possible. At this point, it looks most likely that they would occur overnight into Saturday morning.
So a very pleasant week ahead with little precipitation; it's nice to finally give some good news!
Winnipeg's seasonal daytime high is currently 22°C while the seasonal overnight low is 9°C.