The heat seen over southern Manitoba over the past week will be in place for just one more day before a low pressure system moves through the region on Saturday, bringing soggy weather and cooler temperatures.
Saturday
Mainly cloudy with showers. Risk of a thunderstorm.
Sunday
Mixed skies with a chance of showers
Another hot day is on the way for Winnipeg, but humidity will continue to decrease slightly towards more comfortable levels. Winnipeg & area will see plenty of sunshine today with just a few puffs of cloud possible in the afternoon. Winds will be fairly light out of the west-northwest at 15-25 km/h. Temperatures will climb to a high near 28°C. Tonight will bring increasing cloud and light winds as temperatures dip to around 18°C.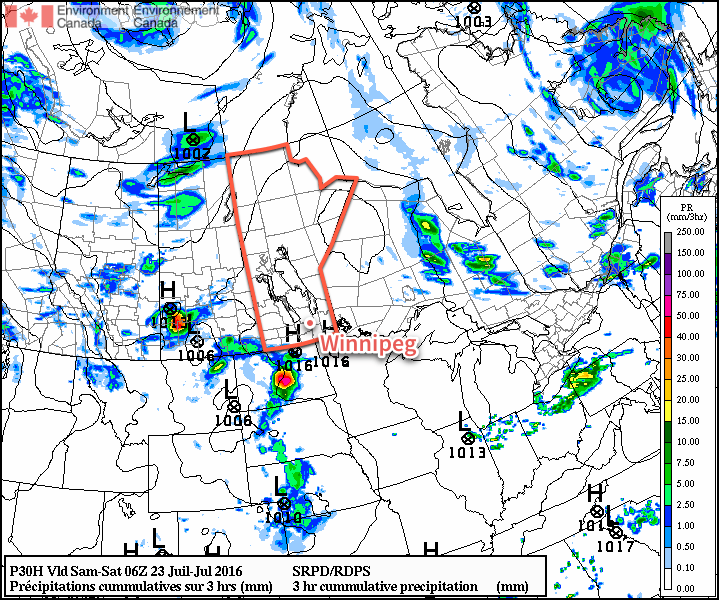 Saturday will be an unsettled day as a low pressure system moves through the province. The daytime high will be in the mid-20's with winds picking up out of the south to 20-30km/h in the morning.
There will be rain on Saturday, however at this point, there's still some uncertainty on exactly where precipitation will fall. Indications are that amounts will generally be 5-15 mm, however convective elements may produce rainfall amounts up to 30-50 mm in thunderstorm activity.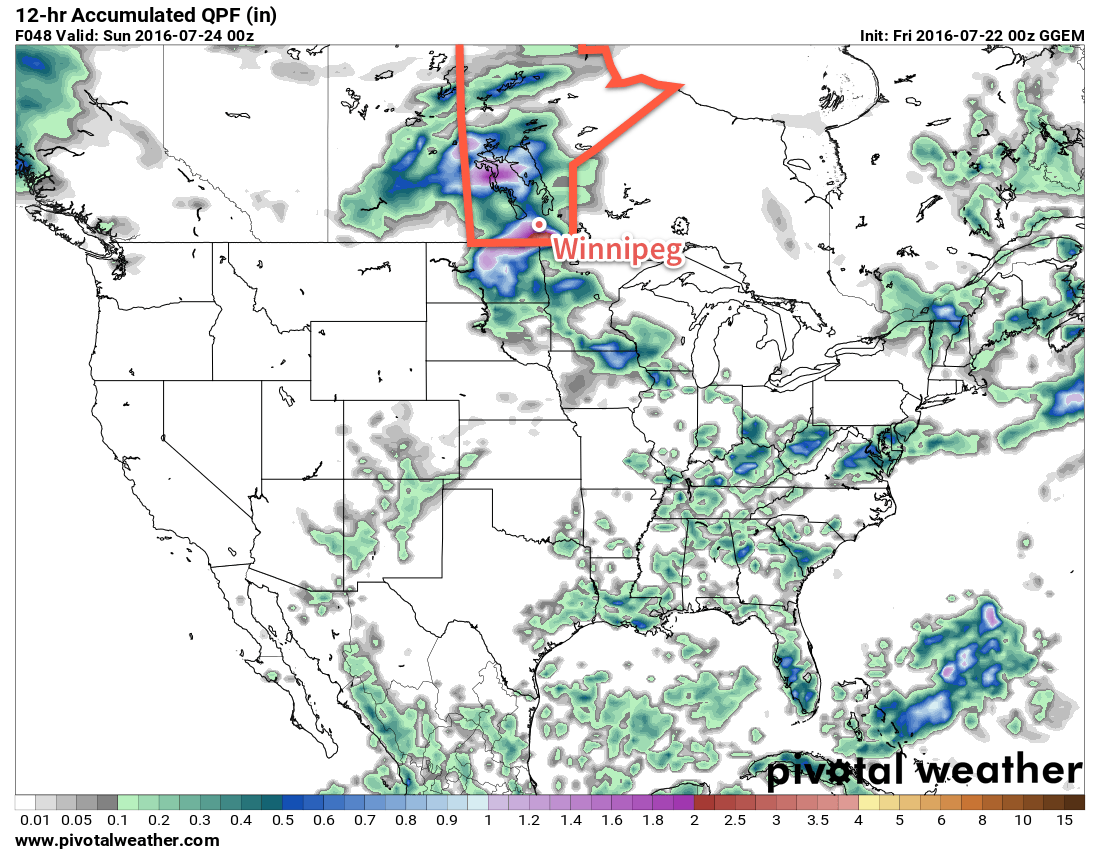 Ultimately we'll simply have to wait and see how things shape up and what the nature is of the precipitation that develops through Montana and Saskatchewan tonight. We'll provide updates in the comments below.
Much of the rain will taper off on Saturday evening, leaving us with fairly cloudy skies and a low that falls to around 16°C by Sunday morning.
Sunday will be a bit of a mixed bag. Expect mixed skies and a high near 26°C, however winds will be breezy, peaking out of the northwest at around 40 km/h and we'll see just a slight chance of some scattered showers. Skies should clear for Sunday night as temperatures head to a low near 16°C.
Long Range
The start of next week looks fairly pleasant with sunny to mixed skies and daytime highs in the mid- to upper-20s. It looks like it will be fairly dry with a ridge of high pressure deflecting things south of the Red River Valley, but that will be sensitive to the exact location that this feature sets up.
Winnipeg's seasonal daytime high is currently 26°C while the seasonal overnight low is 13°C.