The Victoria Day long weekend will end with good weather after an unsettled Sunday and warm conditions are expected to continue into midweek.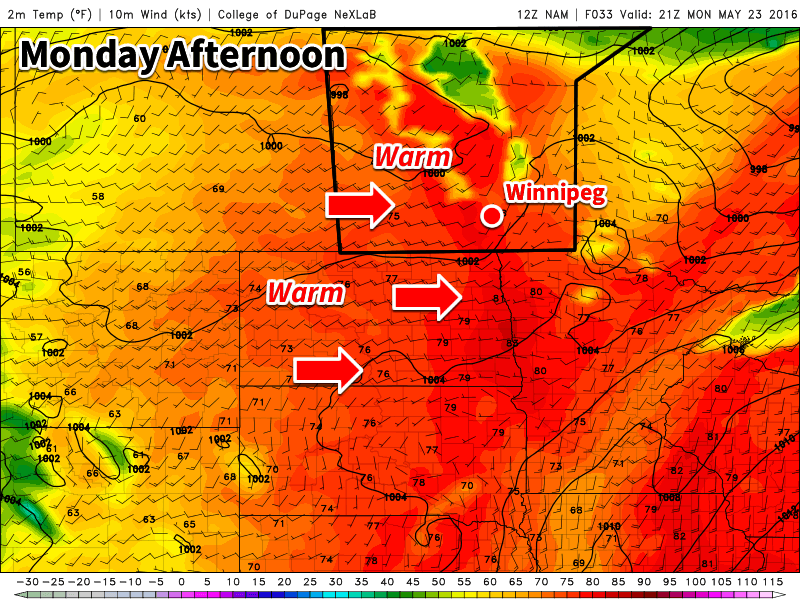 This Week
Wednesday
Mix of sun and cloud. Risk of a thunderstorm.
Today will be a nice day in southern Manitoba. Skies are expected to be mainly sunny with temperatures climbing into the mid twenties. There will be a slight risk of thunderstorms in the morning in the Red River Valley and south-eastern Manitoba as some instability remains ahead of a weak cold front. The risk of storms should end by the afternoon as westerly winds remove the moist air mass from the region.
Tuesday will be another pleasant day, with temperatures in the mid to upper twenties and mainly sunny skies. A southerly flow will be in place over southern Manitoba, with wind speeds around 20 km/h.
Wednesday will be an unsettled day in southern Manitoba. A south-easterly flow will bring a moist air mass back to the region, causing the atmosphere to become unstable. There will be a risk of thunderstorms in most of southern Manitoba, but at this time it remains unclear how strong storms will become. Models currently show marginal conditions for severe thunderstorms, although it is too early to say what type of risk we'll end up seeing.
Long Range
Long range models continue to show generally above-seasonal temperatures for southern Manitoba over the next couple weeks. We should see these warm-hot conditions last into early June, if not longer than that. We are only a month away from the beginning of summer, so it is become less likely we'll see any prolonged periods of cold weather.