The weather will be relatively quiet over the coming few days with slightly below-seasonal temperatures in place. The only real weather to note will come on Saturday as a weak low pressure system tracks along the US-Canada border and brings the chance for some light snow to the region.
Today will bring a daytime high near -8°C with partly cloudy skies and light winds. Expect a low near -13°C tonight with increasing cloud.
Saturday will be a mostly cloudy day as a low pressure system skims along international border. Temperatures will top out around -6 or -7°C in the Red River Valley with a decent chance of some light snow in the region, particularly through the afternoon. Minor accumulations may occur, but only really enough to make roads a bit slick again. Winds will continue to be fairly light. Temperatures will dip down to around -14°C on Saturday night with clear breaks developing.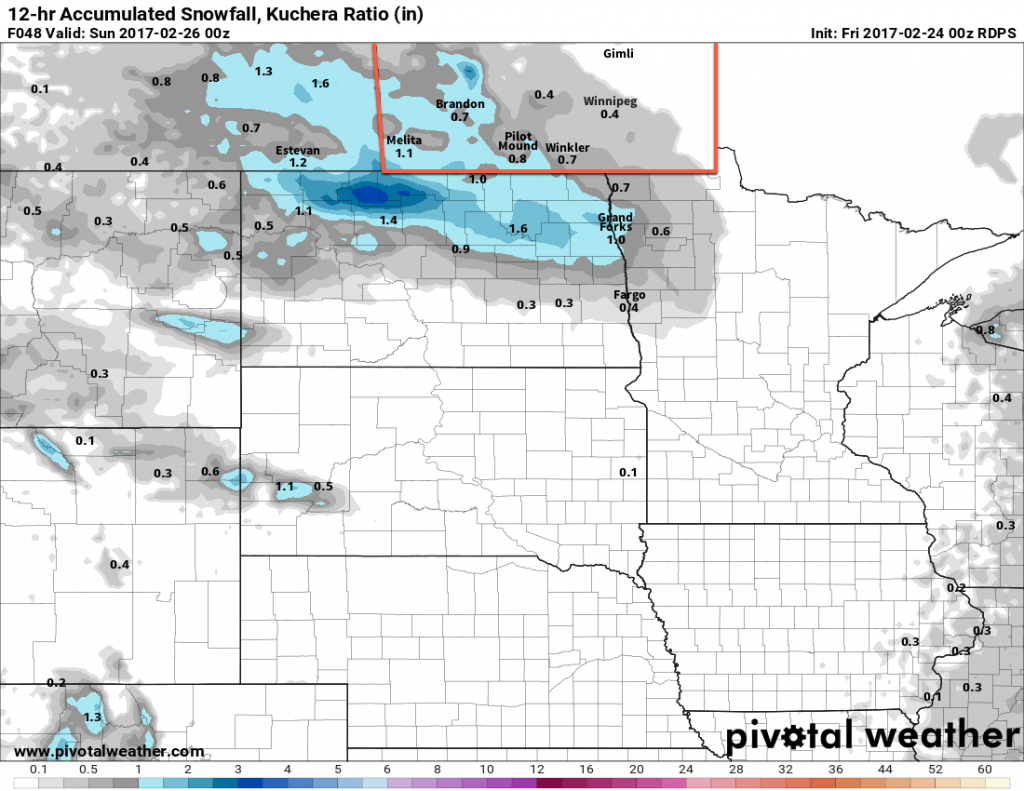 Sunday will be be a return to quiet weather with a high near -6°C, light winds and mixed skies. Lows will drop to around -12°C on Sunday night with mixed skies continuing.
Ultimately, there's a slack pressure pattern for the coming few days and with the storm track well to our south. This will result in a few days that are mostly slight variations of each other.
Long Range
Temperatures are expected to return to seasonal values for much of next week. At this point, it appears that there are no threats for any notable snowfall events until late next week, so fairly quiet weather ahead.
Winnipeg's seasonal daytime high is currently -6°C while the seasonal overnight low is -16°C.