There will be no mistaking it this week: spring has arrived!
Temperatures will remain above normal through the coming week as a westerly flow aloft continues to spread mild Pacific air eastwards across the Prairies. With a rapidly eroding snow pack in the Red River Valley, it will also become easier and easier to reach warmer temperatures as the surface albedo decreases.1
It won't all be sunshine, however. Today's weather will be driven by a weak mid-level disturbance rolling through. It will bring fairly cloudy conditions through much of the day and a chance of rain or freezing rain in the morning.2 Winds will remain fairly light as temperatures climb to a high near 5 or 6°C. Clouds will remain fairly cloudy tonight as well with temperatures dropping to a low near -2°C.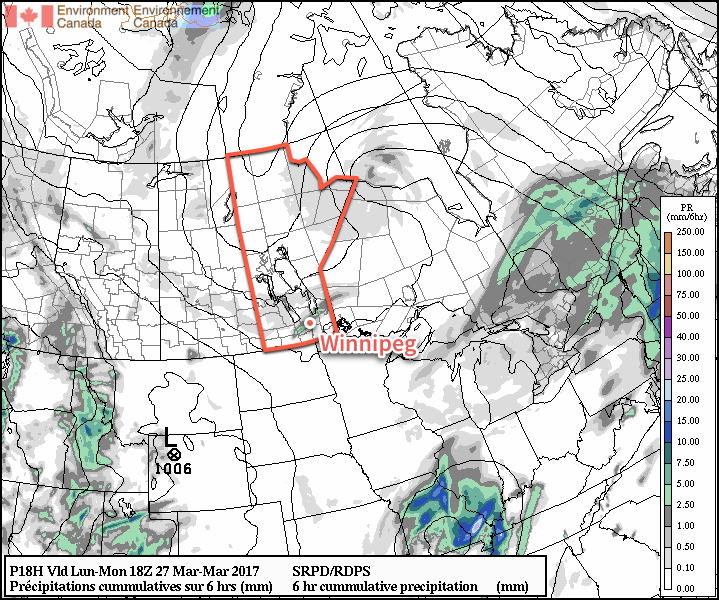 Tuesday will be a bit nicer, with some of the cloud breaking up to give a mix of sun and cloud to Winnipeg. Temperatures will climb to a high near 8 or 9°C with light northeasterly winds. Temperatures will drop to a low near 0°C under mostly cloudy skies on Tuesday night. There will be a slight chance of some rain overnight as a warm front pushes through, but that will depend on whether or not it ends up strong enough to support any showers.
Wednesday will bring some more cloud to the region, but temperatures will climb to a high near 10 or 11°C. Winds will be out of the south near 20 km/h. Skies will break up a bit overnight with temperatures dropping to a low near 2°C.
Long Range
Temperatures will continue to be mild with daytime highs near the 10°C mark throughout the remainder of the week and into the weekend. There will be a few chances for some showers throughout the second half of the week and into the weekend, but they seem to mainly be during nighttime. For the most part, it looks like beautiful weather ahead.
Winnipeg's seasonal daytime high is currently 3°C while the seasonal overnight low is -7°C.
---
Albedo is a measurement of how much energy a surface reflects instead of absorbs. Snow has a very high albedo—up to 85-90%—which means a majority of energy from the sun is reflected back upwards. Bare ground only reflects around 10-15% of the incoming energy, absorbing the other 85%. This allows temperatures to climb much higher over bare ground compared to snow-covered ground. ↩
What the precipitation falls as will depend precisely on the surface temperature at the time. ↩