The coming days will bring an end to the persistent blustery north-northeast winds and a return to seasonal temperatures.
Temperatures will remain a bit cool today as a breezy northerly wind persists for one more day, continuing to tap into cooler Arctic air. Temperatures will climb to a high near 10°C with northerly winds increasing to 30-40 km/h. While it won't be as windy as yesterday—winds reached peak of 52 gusting 69 km/h in the afternoon—the wind will still be fairly noticeable and making it feel cool. Skies will be partly cloudy as Winnipeg lies on the edge of the cloud shield of the departing Ontario low that has been largely shaping our weather the past few days.
Expect a low near -2°C under mainly clear skies tonight with light winds.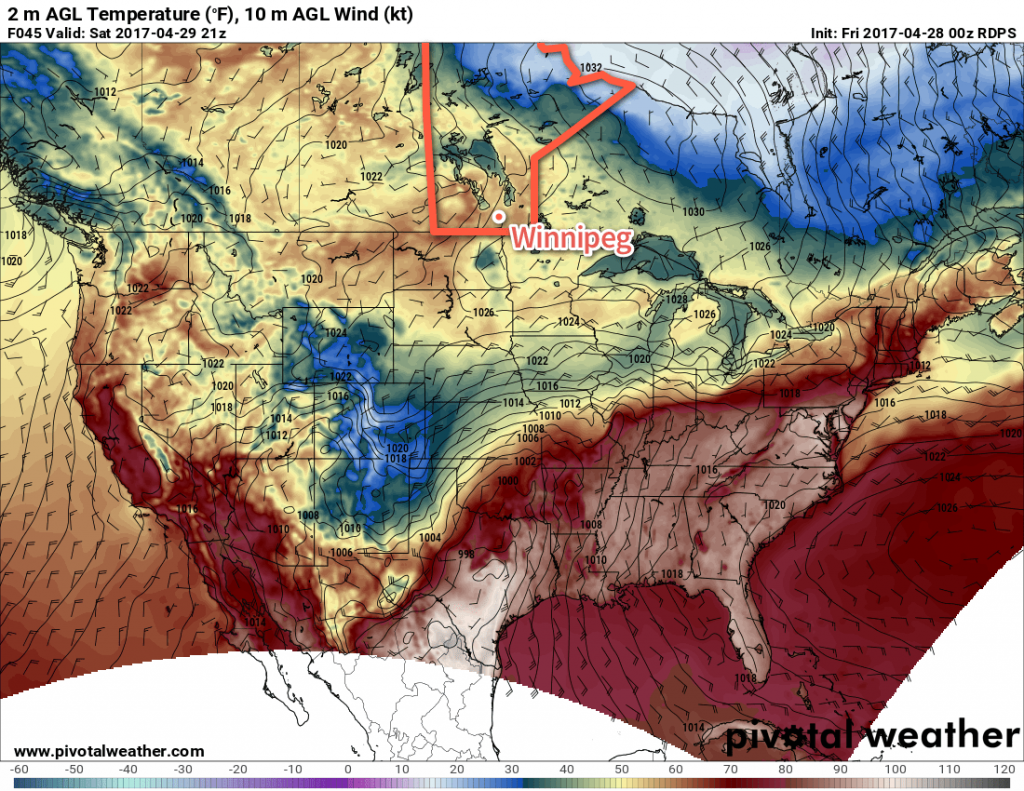 Saturday will be a welcome break from the weather of the past week with mainly sunny skies sending temperatures to a high near 15°C. Winds will start off light, but pick up to around 30 km/h out of the south for the afternoon as a weak disturbance tracks through the Interlake.
Expect a low near 3°C on Saturday night with diminishing winds and mainly clear skies.
Sunday will be more of the same with plenty of sunshine, a high near 16°C and light winds.
Long Range
The long-range forecast looks like a bit of a mixed bag. Temperatures will return to slightly below-seasonal with daytime highs in the low teens and variable cloudiness. It appears that by mid-week, conditions may begin to get a little more unsettled as another major low pressure system moves through Ontario while a secondary storm track across the Prairies begins getting more active. At this point, no big storms are on the horizon, but it's worth noting we may see an increased chance for precipitation through the second half of next week.
Enjoy the weekend!
Winnipeg's seasonal daytime high is currently 15°C while the seasonal overnight low is 2°C.