While the past few days have been pleasant with above-normal temperatures, more significant warmth will be moving back into Southern Manitoba over the coming days as an upper-level ridge builds into the region.
Today will echo yesterday weather-wise, with high temperatures near 8°C and partly cloudy skies. A ridge of high pressure centred over southern Manitoba will ensure that winds remain light, making for a fairly nice day overall. Skies will be mainly clear tonight as temperatures dip to a low near -4°C.
Thursday will be bring the push towards warmer temperatures as the upper-level ridge starts building into the province and a light southerly flow develops. Daytime highs will reach around 11°C with continuing sunny skies. With mainly clear skies, temperatures will dip down to about +2°C on Thursday night.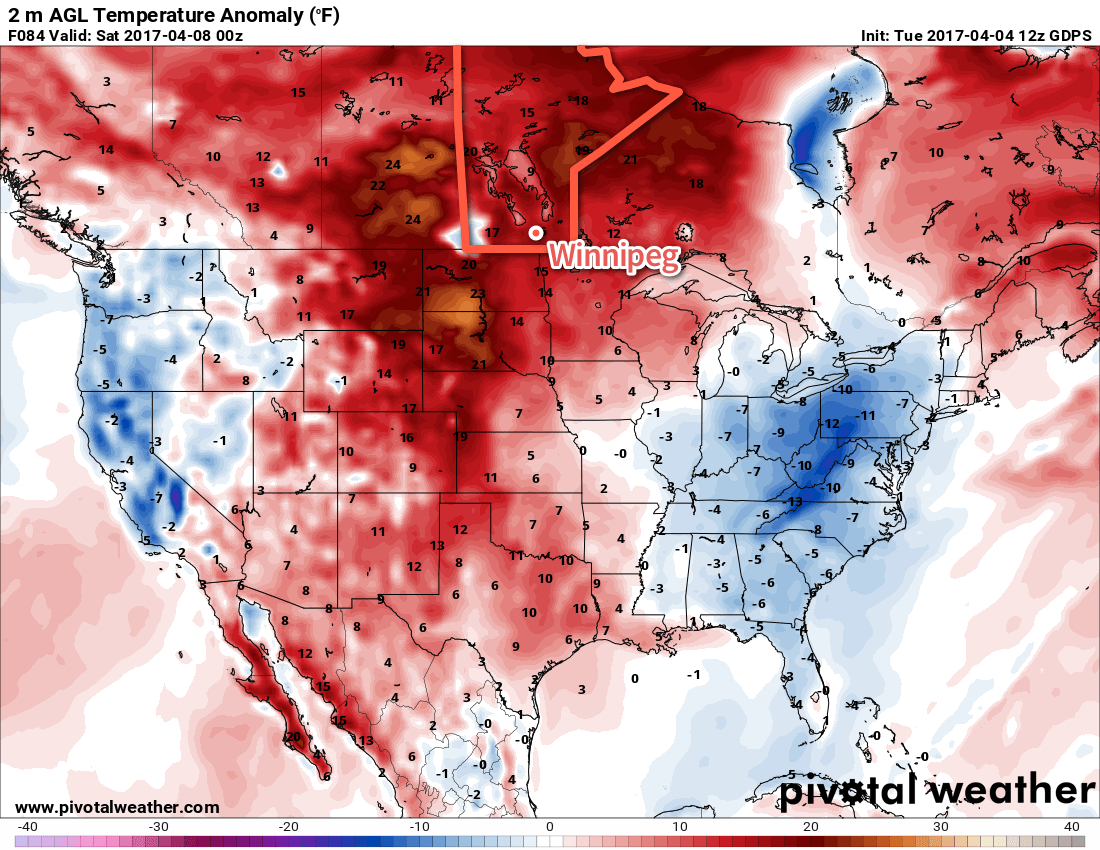 Southerly winds will ramp up on Friday to 30-40 km/h, ushering in a much warmer air mass that is being pulled northeastwards by a develop low pressure system moving across Saskatchewan. Skies will remain mainly sunny for much of the day as temperatures climb to a high near 16 or 17°C. Late in the day, cloud cover will begin working into the region from the west as a warm front moves eastwards across the province. With even warmer air on the way into the region, temperatures will remain quite mild on Friday night with lows dropping to only about 7°C.
Long Range
The weekend is looking quite nice with temperatures soaring into the upper teens on Saturday with lighter winds than Friday shifting from southerly to westerly through the day. Some weather models give a chance for some showers on Saturday, but the general consensus [at the moment] is that we'll see mixed to cloudy skies, but remain dry. The warm weather continues on Sunday, but not quite to the same extent.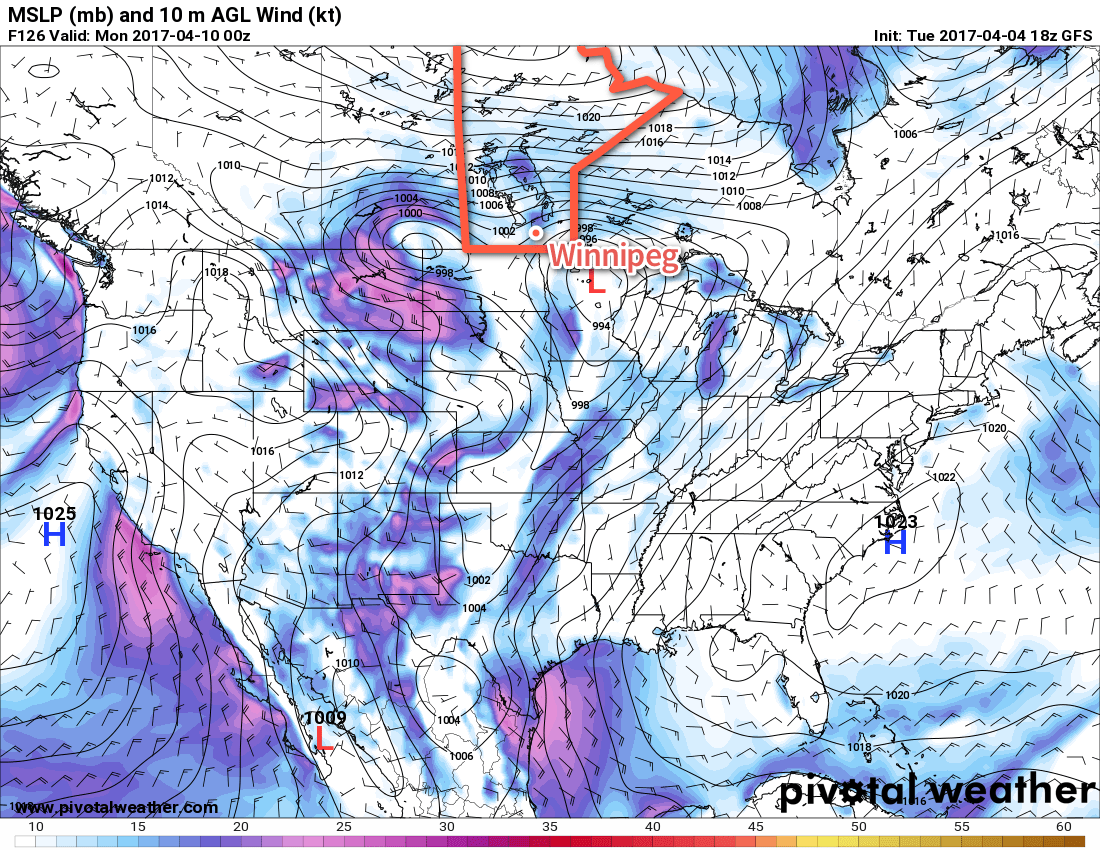 Heading into Sunday night, a couplet of low pressure systems, will move into the region, spreading precipitation northwards into southern Manitoba through the night. As it stands currently, it appears Winnipeg will only see a few mm of rain before things switch over to snow. It's still very early for details, however. In general, it seems likely that many places in the Red River Valley could see up to 5 mm and then anywhere from 5 to 15 cm of snow. This system will likely also carry with it a brisk northeasterly wind, which will produce [potentially significantly] higher amounts near the western escarpment of the Red River Valley.
That said, there is some uncertainty as to whether or not this will actually materialize. We'll be keeping a close eye on things as they develop and have more details heading into the weekend. Until then, enjoy the warmth!
Winnipeg's seasonal daytime high is currently 7°C while the seasonal overnight low is -4°C.