After a rainy weekend we'll have a chance to dry out this week as skies clear. Temperatures will be cool, but generally near seasonal values.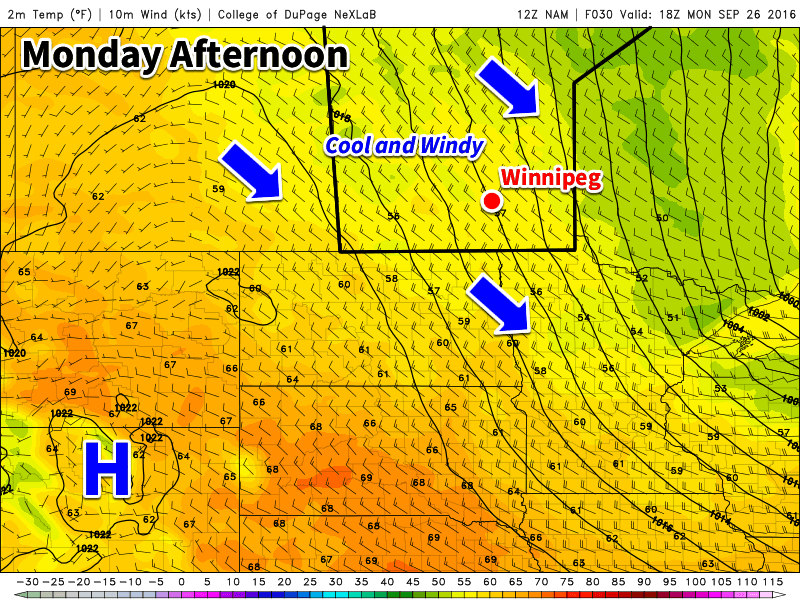 This Week
Today will see mainly sunny skies as the low pressure system from the weekend moves off to the east. However, it will remain quite windy behind the system with northwesterly winds of 40 km/h gusting to 60 km/h. Temperatures will sit in the mid teens over most of southern Manitoba. There will be a slight risk of frost in low-lying areas tonight as temperatures drop rapidly with the light northwesterly flow.
Tuesday will see slightly improved weather over today as winds calm down and temperatures climb up into the mid teens. Skies will also remain mainly sunny, making for a generally pleasant day.
Wednesday should be one of the warmest days this week. Temperatures are expected to climb up near the 20C mark under light southerly winds and mainly sunny skies.
Long Range
Long range models hint at another strong low pressure system developing to our west later this week. It remains unclear if and when this system may affect us, but it likely won't be until the weekend at the earliest. The good news is that this system will draw up a warm, southerly flow, perhaps giving us a brief stretch of warm weather before it arrives.