This week will remain on the cool side as we continue to deal with chilly air flooding down from the north.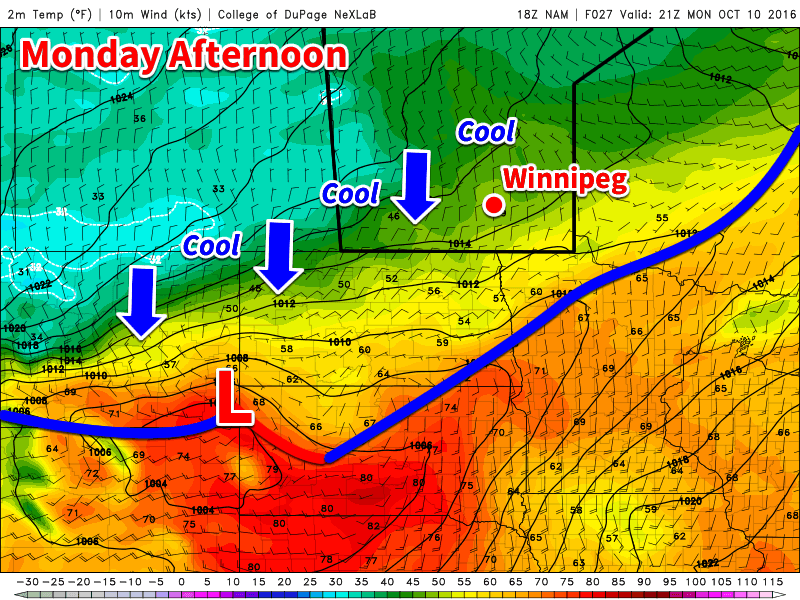 This Week
Today will be another cool one in southern Manitoba. High temperatures in the upper single digits are expected with breezy north winds. A weak low pressure system will pass through the region, perhaps bringing a few showers to southern Manitoba. Portions of western Manitoba and the Interlake may receive some heavier precipitation, with periods of light to moderate rain possible. There may even be some snow mixed in, especially as temperatures cool in the evening and after dark.
Tuesday will remain cool, with temperatures once again in the mid to upper single digits across southern Manitoba. Skies will be mainly cloudy with a slight chance of a shower or flurry. Winds will be breezy out of the north at 20 km/h.
Cool weather will continue on Wednesday as high temperatures only climb into the mid single digits. Skies will remain mainly cloudy with a slight chance of showers or flurries. Winds will be westerly at 20 km/h.
Long Range
Medium- to long-range models suggest that above-normal weather may make a come back as we move toward mid-month with temperatures that may begin to climb back to normal or above-normal values by the weekend and continue into next week. This should stave off the risk of any significant snow for the foreseeable future.