The weekend will bring a mixed bag to Winnipeg with temperatures climbing into above-seasonal values, but a fair amount of cloud will remain in place over the next few days, dampening the spring-like feeling.
Cooler temperatures will be in place over the Red River Valley today as a result of northerly winds to 20-30 km/h that moved in behind a cold frontal passage overnight. Temperatures are expected to reach high near +2°C in Winnipeg today as those winds diminish by midday. Skies will become a mix in the morning and remain that way through much of the remainder of the day.
Skies should clear up tonight as temperatures drop to a low near -5°C.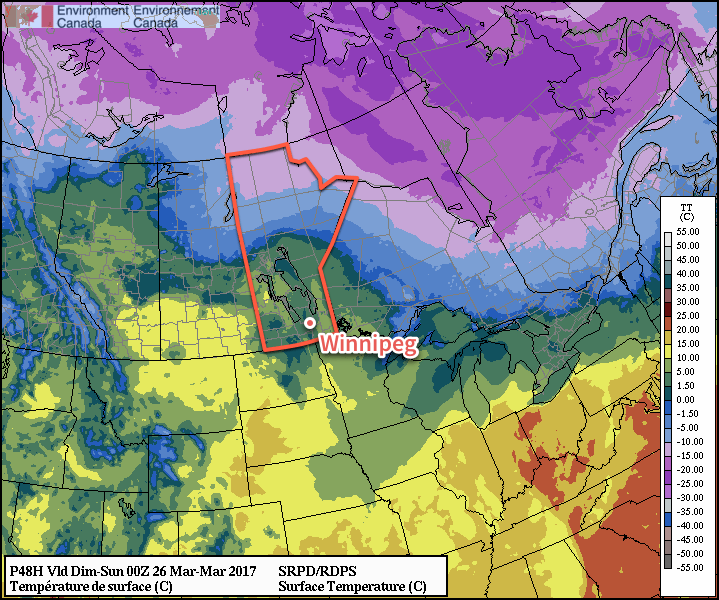 Saturday will bring slightly milder temperatures to the region, but alongside the warmth will come breezy southerly winds to around 30 gusting 50 km/h. Temperatures will climb to a high near 4 or 5°C with skies clouding over. Saturday night will bring diminishing winds, cloudy skies and a seasonally mild overnight low near 0°C.
Sunday will be similar temperature-wise to Saturday with a high temperature near 5°C, but a trough of low pressure moving into the Red River Valley will bring lighter winds and the chance for some rain showers. Skies will clear a bit overnight as temperatures head to a low near 0°C once again.
Long Range
As mentioned in our last post, the forecast for a continued trend of gradual warming continues. Little has changed from our outlook earlier in the week, with above-normal temperatures expected in most places over the coming couple weeks.
Winnipeg's seasonal daytime high is currently 2°C while the seasonal overnight low is -8°C.