A LOOK AT NIAGARA FRONTIER'S
GREATEST WINTER STORM

JANUARY 28 - FEBRUARY 1 1977

by Rob Paola

When you ask people about bad snowstorms they remember, they will tell you of a storm that gave knee deep snow, closed a few roads, or gave them a day off work or school.

But if you ask someone who lived in southern Niagara or western New York back in 1977, they will tell you of a storm that had no equal in terms of severity or longevity. They will tell you of a storm that lasted for days, created snowdrifts that buried houses, stranded thousands of people, and tragically took almost 30 lives. They will tell you that when it comes to storms of the century, there is no match in the annals of history of southern Niagara or western New York..

They will tell you of a storm simply known as...

THE BLIZZARD OF '77.
Prologue
The winter of 1976-77 was one of the harshest on record over much of the Great Lakes and eastern United States. It had started early with record cold and snows in November which continued through December and January. January 1977 was particularly brutal, with no thaw for the first time in recorded history in Southern Ontario. The persistent cold and frequent snowfalls allowed a record snowpack to form, especially over Lake Erie which had frozen solid by the end of December. Click here for further details on weather conditions prior to the blizzard.
Friday January 28 1977 (Hi: -4C, Low -18C, peak wind gust 111 km/h (69 mph) at Buffalo, 120 km/h (75 mph) at Niagara Falls)
By the end of January, residents of Niagara were getting used to the snow and cold. In fact, Friday January 28, 1977 dawned fairly tranquil compared to the past month, with cloudy skies and some light snow falling. Temperatures that morning were fairly comfortable compared to the past few weeks with a slight wind from the southeast. There was talk of another storm coming.. but with the relentless snows of the past month, what was another snowfall to worry about? People went to work, kids went to school, and life went on as usual in southern Niagara.
But this was not just another storm.. the morning weather map showed a vicious cold front over Michigan and Ohio barrelling east towards Niagara. The front marked the leading edge of a bitterly cold airmass plunging in from the northern plains, along with ferocious winds and blizzard conditions. By 10:30 am, the front hit Niagara.. winds shifted into the southwest and increased to 70 km/h with gusts of 100 to 120 km/h. The winds picked up the deep snowcover off Lake Erie and whipped it into severe blizzard conditions over Niagara and western New York lowering visibility to virtually nil. Temperatures started to plummet from the relatively comfortable morning readings of -4C to a frigid -18C by afternoon, sending windchills into the -40 range. The great Blizzard of '77 had begun..
WELLAND ONTARIO - EAST MAIN ST
FRIDAY JAN 28 1977
(Welland Tribune photo)

Of the many photographs from the Blizzard of '77, few capture the intensity and ferocity of the storm as it hit that Friday as well as the image here. This is a photo of downtown Welland, Ontario, East Main Street looking west just before the Main St lift bridge. Visibility is down to 20 or 30 feet at best, which is officially "zero" visibility in weather observing terms. This would have been taken at the height of the storm Friday afternoon, as southwest winds of 70 to 120 km/h were blasting through Niagara with snow and heavy blowing snow off frozen Lake Erie. Temperatures had plunged down to minus 18C (0F) by this time with wind chills in the minus 35 to minus 40C range (as measured by the current wind chill formula)

Keep in mind this was the visibility in a built up downtown area. Visibility would have been even less in exposed areas, especially near Lake Erie which would have bore the brunt of the ferocious winds and blowing snow off the lake. In these areas, visibility was no more than a few feet. Venturing out in such conditions would have been a death sentence as a person would quickly become disoriented and lost in such a blinding whiteout, even within a short distance of familiar surroundings. Luckily most people stayed in their cars, or only ventured out when conditions improved enough to see a short distance. However there are some harrowing stories of how people almost got lost trying to get home.. even though they were just down the street from their own residences. See the passage below for one example..
A FRIGHTENING JOURNEY HOME
"There was still some light outside and I decided to try again (to get to the house) Again, I was told that I would never make it. As I walked, I saw a few lights in the houses on the right. It was all right up until Reebs Bay, then there were no more houses and no more lights and that was the worst stretch ahead for me. I started walking and again I had no idea where I was. It hurt my eyes to stare at things. I felt crunching under my feet and I thought, my God, this is a little different. I bent over and felt with my hands. I realized I wasn't on the road. I was on Lake Erie! Ice under my feet! I started running. I was terrified. I stopped running and sat down for a while. I kept saying to myself that it couldn't happen to me. Then I spotted a dark shadow and I ran for it. It happened to be a tree, thank God! I knew a tree has to be on land. I found the road again. I found the power lines. I followed them. I was getting really tired because the drifts were high. I was on my hands and knees half of the time crawling up and down, up and down..

Finally, I spotted my place. Oh God, oh God I was so excited. I crawled up to my house over the drifts. I got there and there was no place to go into my home. The entire bottom was snowed in. I climbed up to my upstairs deck but the sliding doors wouldn't open. I crawled downstairs to my back porch. It was covered. I couldn't even see it. I started digging with my hands and I don't know how long I dug."

- Attila Nagy, teacher, Port Colborne, Ontario

The above account is from Erno Rossi's classic book on the blizzard, "White Death - The Blizzard of '77", illustrating the fury of the blizzard as it hit that day. The account is of a school teacher who had to walk from a friend's house to his home on the Lake Erie shoreline in Port Colborne, Ontario, normally a pleasant 3 mile walk along the lake..
The blizzard came on so suddenly, it took everyone by surprise. Roads quickly became blocked by drifts and stranded cars as motorists abandoned their vehicles in the street, unable to continue in the deepening drifts and nil visibility (see photo left) School officials were forced to keep hundreds of students at school because buses could not reach them and parents could not get to them. Many people waited in cars or businesses to ride out the storm hoping to continue back home later that day. But the storm didn't subside. The severe blizzard continued through the night into the next day.. and the longer it went on, the higher the drifts became, and the more life stopped.
Abandoned cars on the QEW between Fort Erie and Niagara Falls. Many roads in Southern Niagara and Western New York looked the same way after drivers simply abandoned vehicles when driving became impossible in the blizzard.

In his book "The Blizzard", author Robert Bahr describes conditions in Buffalo as the arctic front came through late that Friday morning from the perspective of businessman Larry Mark during a meeting on the 16th floor of a downtown building.
The room grew silent. Everyone turned to the windows. They heard a roar an instant before the wind struck the building. Larry felt the floor shudder and heard the plate glass creak. Sixteen floors below, shoppers and businessmen staggered into the wind. Some clung to street-light poles and traffic signs; others ducked for shelter. A man's hat soared high above traffic. "Holy Christ" the division manager muttered. He joined Larry at the window to watch the colossal wave of gray roll ominously over the (Lake Erie) shore. In that instant the Skyway disappeared. A few seconds later, the Ellicott Square building was blotted out, along with cars, people and lights below. New York Telephone's central office vanished simultaneously with its microwave tower, then the church steeple across the street ceased to exist. The instant the white wave struck the window, Larry wondered if the world might be ending.

The time was 11:10 am.
In effect, this was more than an Arctic front.. this was a blizzard front. It marked the leading edge of a full blown blizzard immediately behind it, with powerful winds bringing visibility down to zero, and temperatures plunging to -18C within a few hours. This is something that is more common out in the Prairies or Arctic, but virtually unheard of in the Great Lakes.. let alone the shores of Lake Erie. In fact, up until this storm, the National Weather Service had never issued a blizzard warning for the Buffalo area. The distinction of Buffalo's first ever blizzard warning belongs to Jan 28th 1977, issued around 10:00 am that morning just before the blizzard hit.
Saturday Jan 29 (hi -14, low -22, peak gust 82 km/h (51 mph) - The Blizzard continues
Blizzard conditions continued through the day with southwest winds of 50 to 80 km/h maintaining poor visibilities and bitter cold. Hundreds of people stranded in schools, stores and businesses overnight could do nothing but stay put as the the continuing blizzard put off any thoughts of returning home. Snowmobiles and 4x4 vehicles became the only way to travel across southern Niagara, as increasing drifts and clogged roadways made normal travel impossible. People made the best of it they could, and the local Welland area radio station CHOW, now operating in emergency programming mode, quickly became the lifeline for thousands of southern Niagara residents by broadcasting appeals for food, medicine, and clothing for stranded residents.
A school bus lies buried in a snowdrift after being abandoned on Tice Road in Pelham, Ontario. Many children were stranded at schools, especially in rural areas as buses could not transport children back home in the blinding blizzard.
Sunday Jan 30 (Hi -11, low -17, peak gust 84 km/h (52 mph) - A break in the Blizzard
Sunday saw a break in the blizzard conditions with lighter winds, improved visibility and even some sunshine appearing at times. People used the break in the storm to find their way back home (including my father who had been stranded at work at the INCO nickel refinery in Port Colborne since Friday). Many school children were also finally reunited with relieved parents after two days of being stranded at schools and private homes. People began to think that the storm was over.. but in the afternoon southwest winds started to pick up again, and by evening blizzard conditions had redeveloped over southern Niagara and WNY.
Many business and shopping mall parking lots looked like this. Even if you could find your car, it was impossible to dig it out and drive away. Many cars couldn't even start due to engines that had been clogged with wind blown snow for 48 hours.
Monday Jan 31 (Hi -8, Low -16, peak gust 93 km/h (58 mph) - The Blizzard returns
The blizzard, which had temporarily eased up on Sunday, had redeveloped Sunday night and continued into Monday. That Monday morning, I distinctly remember opening up our living room curtains, and being amazed that this mighty storm was STILL in progress. We began wondering if this great storm would ever end! Once again, strong southwest winds of 60 to 90 km/h pounded southern Niagara, with more blowing and drifting snow piling up on top of the already large drifts. The blizzard, now in it's fourth day, suspended all activities in southern Niagara and WNY, with businesses and schools closed, and only emergency travel allowed.
By the 4th day, houses and vehicles near Lake Erie were being buried by drifts of 20 to 30 feet high. Warnings were broadcast on radio warning people not to touch hydro wires that were now easily reached by walking on the huge drifts.
Tuesday Feb 1 - It's over!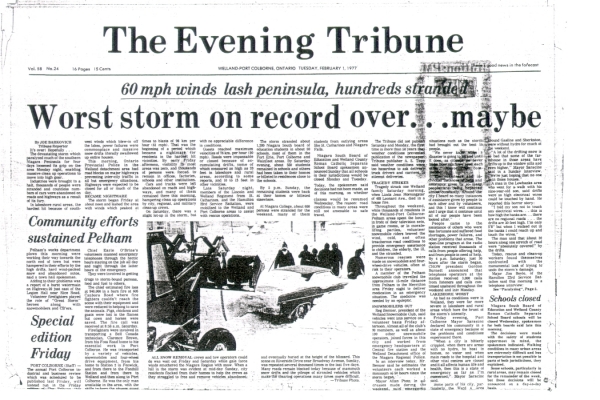 Tuesday Feb 1st - Tuesday dawned with light snow, blowing snow and reduced visibility once again.. but by late morning, winds shifted to the northwest and skies began to clear. By afternoon, conditions were sunny and tranquil with light winds and good visibility. Unlike Sunday's reprieve, winds were expected to remain light and no additional snow was expected. The mighty blizzard of '77 had finally ended! The damage however would take days to undo… with many schools closed for the rest of the week. Snow clearing machines from Toronto and Owen Sound would be trucked into Niagara to help unclog the heavily drifted roadways. The Welland Tribune newspaper declared "Worst storm on record over…maybe" .. a cautiously optimistic headline that still expressed some doubt about whether or not the mighty blizzard of '77 had indeed finally ended. It had of course, but it would forever be engrained in the memories of all who lived through Niagara's greatest storm. The 4 day storm had claimed the lives of 29 people in Western New York mostly due to carbon monoxide poisoning or exposure, and cost about $300 million in damages across southern Ontario and Western New York.
Front page of the Welland Tribune, Feb 1 1977
---
Meteorology of the Blizzard of '77 - What happened?
| | |
| --- | --- |
| | |
| Surface Plot - 7 am Jan 28 1977 | 500 mb plot - 7 am Jan 28 1977 |
The stage was set for the blizzard in that long cold winter of 1976-77 with its frequent snowfalls and lack of any thaw for several weeks before the blizzard hit. But what made this particular storm so sudden, so fierce and so persistent? Looking at the morning weather maps from Jan 28 1977, one finds a large core of cold Arctic air over the Midwest with 850 mb temperatures of -25C over Illinois (11c colder than at BUF that morning) along with southwest winds of 50 knots or more over the Ohio Valley. Thus, the cold air was coming in from the west and southwest with this particular storm, rather than the northwest as is often the case with Arctic outbreaks. These situations allow for the coldest air and strongest winds to funnel straight up the full fetch of Lake Erie bringing maximum winds to southern Niagara and Western New York. This allowed for the sudden and dramatic start to the blizzard Friday morning as the cold front blasted through at 80 km/h churning up the loose snow into instant blizzard conditions. Second, the winds remained from the southwest during the entire storm instead of shifting to the northwest. This caused the extensive blowing and drifting of the snow off Lake Erie to continually pound the same area for hours on end. Had there been a shift in the wind direction, the blizzard would not have lasted as long in any one place which would have reduced the drifting problem. Third, the main storm system responsible for the cold air supply looped back over northern Ontario over the weekend.. which reinforced the cold air and strong southwest winds off Lake Erie into Monday. It wasn't until Tuesday that this storm system finally moved east and released its grip over Southern Ontario.
WRF model simulation of Blizzard of '77
(numerous parameters as compiled by Golden Horseshoe Weather)
Surface weather observations: Friday Jan 28 1977
Official weather observations from airports across the Niagara area

Temperatures in C, wind speeds km/h.
St Catharines
Hamilton
Simcoe
WIND WIND
TIME TEMP TD DIR SPEED VSBY

YSN 7:00 -11.9 -13.4 120 17 4 S- YSN 8:00 -11.7 -12.9 90 19 2.4 S-
YSN 9:00 -11.2 -12.3 100 20 2.4 S-
YSN 10:00 -9.6 -10.7 130 19 1.2 S-
YSN 11:00 -5.3 -7.1 220 28 0.8 SBS
YSN 12:00 -6.3 -7.3 240 52 0.4 SBS
YSN 13:00 -13.5 -15.1 230 59 0.4 SBS
YSN 14:00 -15.5 -17.3 230 56 0.4 S-BS
YSN 15:00 -16.2 -17.9 220 52 0.4 S-BS
YSN 16:00 -16.8 -19.0 220 70 0.4 S-BS
YSN 17:00 -16.9 -19.0 220 67 0.4 S-BS
WIND WIND
TIME TEMP TD DIR SPEED VSBY

YHM 6:00 -13.7 -15.2 140 17 2 S-
YHM 7:00 -13.0 -14.2 120 19 4 S-
YHM 8:00 -12.3 -13.3 110 17 1.6 S-
YHM 9:00 -11.6 -12.8 110 15 1 S-
YHM 10:00 -10.7 -11.8 40 6 1.6 S-
YHM 11:00 -6.5 -7.8 240 46 0.2 S-BS
YHM 12:00 -10.4 -11.4 230 59 0 S-BS
YHM 13:00 -14.8 -15.6 240 59 0 BS
YHM 14:00 -16.6 -19.2 240 59 0.4 BS
YHM 15:00 -17.4 -20.1 240 59 0.4 BS
YHM 16:00 -17.2 -19.6 220 52 0.8 BS
YHM 17:00 -15.6 -17.6 240 50 0.8 BS
YHM 18:00 -12.9 -14.0 270 50 0.8 BS
YHM 19:00 -13.2 -14.4 260 52 0.8 BS
YHM 20:00 -14.5 -15.7 260 50 1.2 BS
YHM 21:00 -16.4 -19.2 260 56 1.2 BS

WIND WIND
TIME TEMP TD DIR SPEED VSBY

WSI 5:00 -12.7 -14.5 140 17 19.3 S
WSI 6:00 -12.0 -14.3 130 13 3.2 S-
WSI 7:00 -11.8 -13.9 130 15 3.2 S-
WSI 8:00 -11.1 -12.3 120 17 1.2 S-
WSI 9:00 -10.2 -12.0 160 15 0.8 S
WSI 10:00 -5.7 -7.1 240 33 0.8 SBS
WSI 11:00 -8.3 -10.3 240 46 0.4 SBS
WSI 12:00 -14.2 -16.2 240 48 0.2 S-BS
WSI 13:00 -16.8 -19.6 250 52 0.2 S-BS
WSI 14:00 -17.0 -19.6 240 46 0.2 S-BS
WSI 15:00 -17.9 -20.7 240 52 0.2 S-BS
WSI 16:00 -16.8 -20.2 240 48 0.2 S-BS
WSI 17:00 -14.9 -17.3 240 44 0.2 S-BS
WSI 18:00 -14.2 -16.2 250 39 0.8 S-BS
WSI 19:00 -14.7 -16.7 240 37 1.2 S-BS
WSI 20:00 -15.9 -18.4 240 44 1.6 S-BS
WSI 21:00 -18.0 -19.4 250 41 1.2 S-BS
WSI 22:00 -19.8 -21.5 250 48 1.2 S-BS
WSI 23:00 -20.8 -23.3 230 41 1.6 S-BS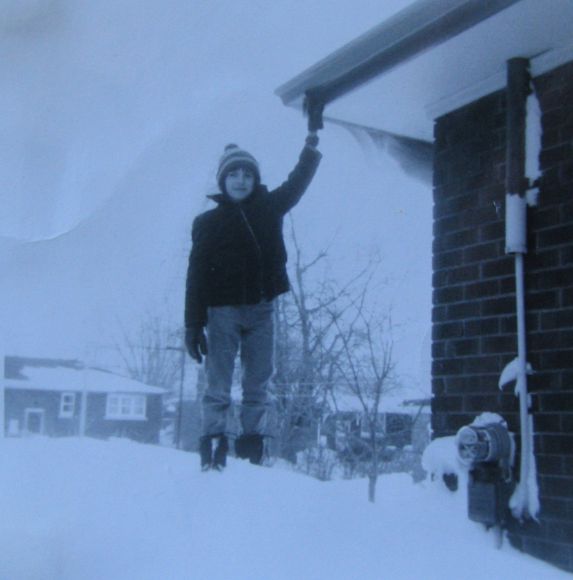 January 1977, Welland, Ontario
My brother Richard (12 years old at the time) poses on a drift beside our home touching our neighbour's eaves. While drifts in Welland did not reach the house-burying depths closer to Lake Erie, it was certainly a novelty for us kids to be able to touch the eaves of neighbourhood houses! Note that drifts easily supported the weight of people thanks to the 4 days of constant strong winds that packed and compressed the snow.
Could it happen again?
Could such a storm ever hit again? The simple answer is yes.. it happened once, it could happen again. However, several factors would have to come together as they did in 1977 for such a storm to occur.
1 – You need Lake Erie to freeze over completely, and fairly early.. the earlier the better. This would allow snowfall to start accumulating on the lake.
2 – You need a prolonged period of cold, snowy weather without a thaw to allow the snowpack to accumulate on Lake Erie to significant depths. In addition, the lack of a thaw would prevent the snowpack from developing a hardened crust layer due to melting/freezing cycles that would greatly reduce the threat of blowing snow.
3 – You need a major push of cold arctic air, with a strong storm system over Northern Ontario bringing powerful southwest winds off Lake Erie. This would initiate blizzard conditions off the lake, but in order to sustain the blizzard for a prolonged period, this weather pattern would have to become stalled or even backtrack maintaining the strong southwest flow off Lake Erie for several days. (note, this does happen from time to time, as was the case in December 2001 when a sustained southwest flow off Lake Erie gave 5 days of lake effect snow to southern Niagara and WNY. The difference in that case however was that the lake was still open, winds were not as strong, and the snow was quite light and fluffy. Snow amounts were considerably more than during the blizzard of 77, but blowing and drifting was nowhere near as severe as in 1977.)
These factors could come together again.. perhaps next winter, perhaps not in our lifetime. However, with the experience of 1977 under our belts, and more accurate weather forecast technology and dissemination, we would likely be much better prepared should such a similar storm occur again. But as always, you can never underestimate the power of Mother Nature.
BLIZZARD LINKS
Rob Paola (email: rob.paola@shaw.ca) is a retired Environment Canada meteorologist currently living in Winnipeg, MB. Many meteorologists will tell you that it was a particular weather event that got them interested in meteorology.. witnessing a tornado, experiencing a severe thunderstorm, living through a hurricane, etc. For me, it was the Blizzard of '77 that got me interested in weather. I was born and raised in Welland, Ontario and was a 14 year old Grade 9 student when the blizzard of '77 struck. I was amazed at the awesome power of nature and how it could bring society to its knees with little or no warning. Man was no match for Mother Nature at her worst. Shortly after that storm, I started keeping a weather log to keep track of the daily weather. By the time I graduated high school, I knew I wanted to become a meteorologist.. a goal I fulfilled some 8 years after that mighty blizzard. To this day, I am still amazed at the power and beauty of Mother Nature, at her best and at her worst!

Other Niagara weather websites from the author:

Niagara Weather Page